Description
Product Description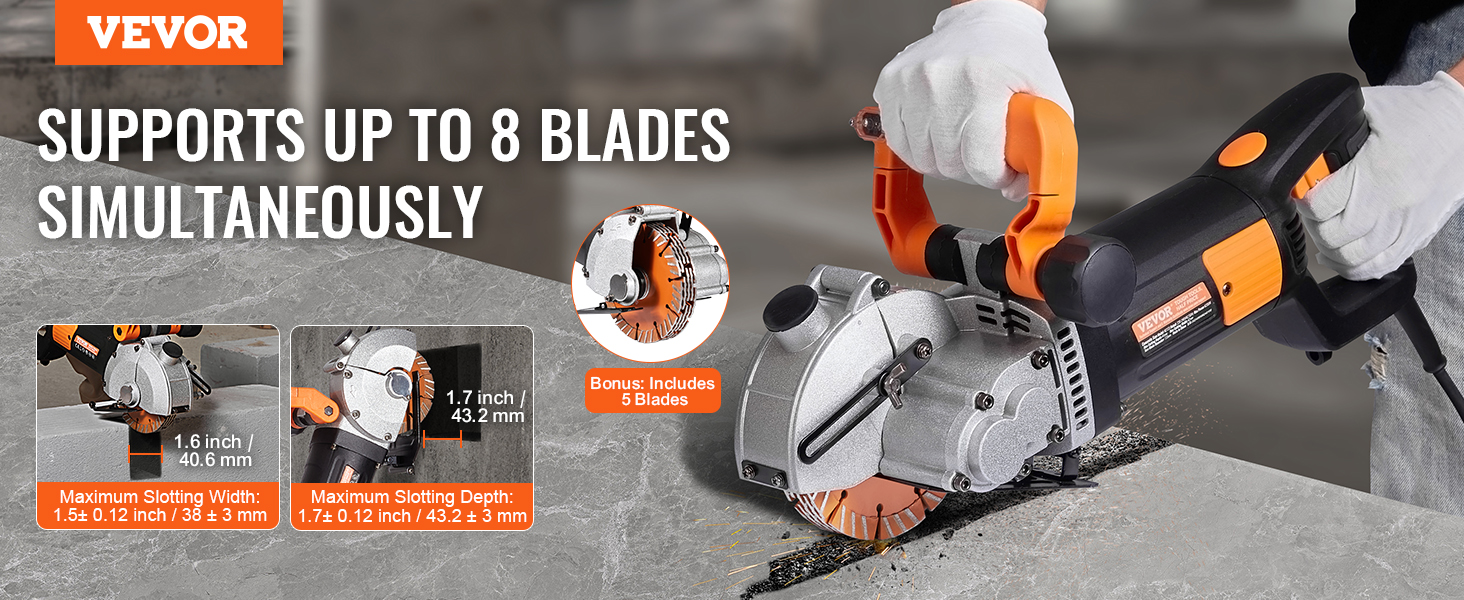 Wall Groove Cutting Machine
Max 5 Blades & 1.4 /1.7 inch Slot Depth & 1.3/1.6 inch Slot Width
The wall groove cutting machine is suitable for home and industrial use and great for cutting concrete walls, marble, granite, red brick, and steel. The metal dust cover and ABS plastic shell are durable and solid for long service life. Our 4000W/4800W machine is suitable for quick cutting of wall chases at one time without any other tools. Cutting groove depth and width can be easily adjusted.
One Time Molding

Adjustable Grooving

Dust-Free Environment

Double Handles
Tough Equipment & Tools, Pay Less
VEVOR is a leading brand that specializes in equipment and tools. Along with thousands of motivated

employees, VEVOR is dedicated to providing our customers with tough equipment & tools at incredibly

low prices. Today, VEVOR's products are sold in more than 200 countries and regions with 10 million

plus members worldwide.
Why Choose VEVOR?
Premium Tough Quality

Incredibly Low Prices

Fast & Secure Delivery

30-Day Free Returns

24/7 Attentive Service
Note: When cutting the vertical groove, the machine head should be facing down to prevent the motor from entering the water, causing burnout or leakage.
Installation Step:

1.Wrench fixed spindle,rotating loose.

2.Put into the pressure plate.

3.Put the saw blade,and then put the pressure plate in order.

4.Put the saw blade Cover the platen screw.

5.Tighten the screws with a wrench.

6.The saw blade is installed.
Key Features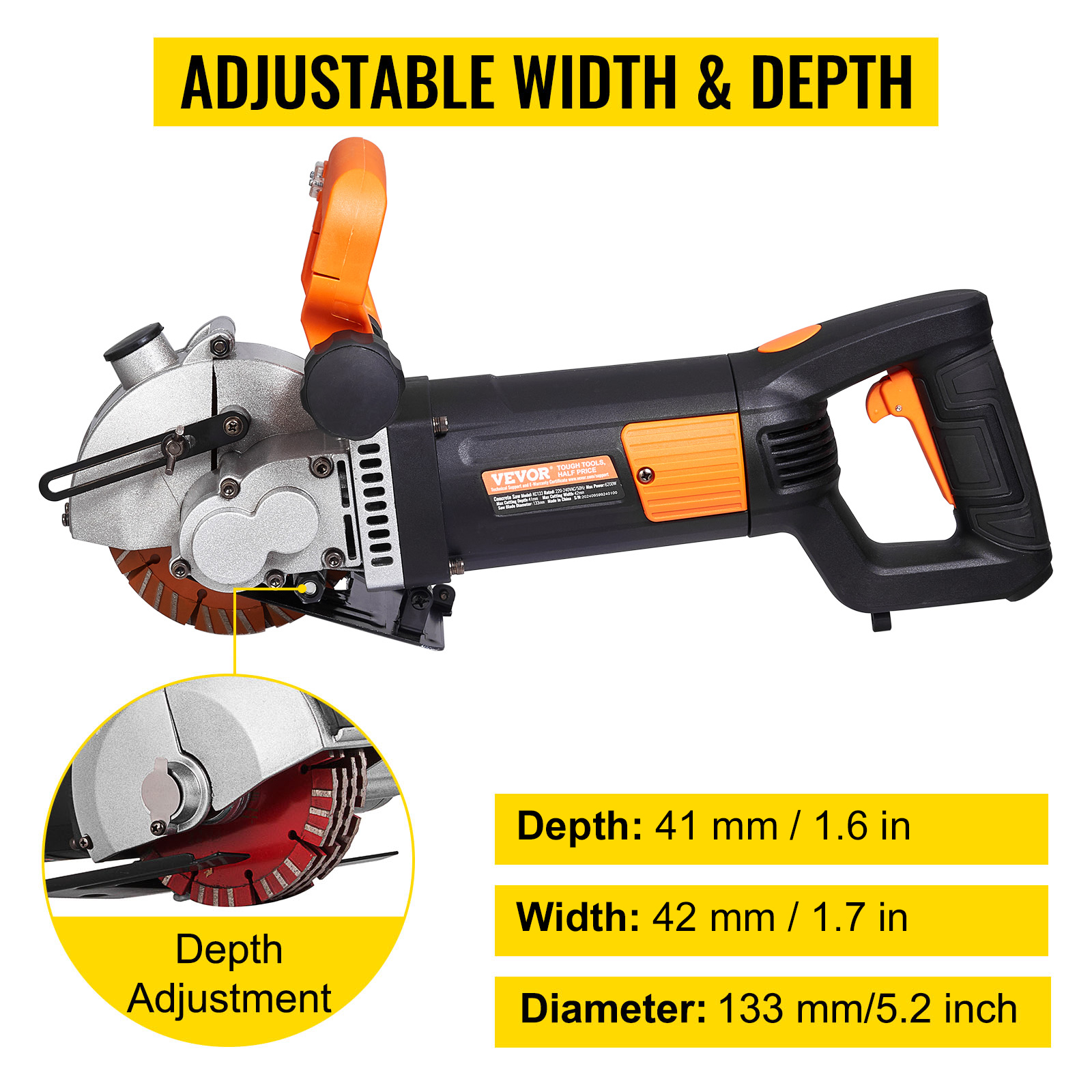 Adjustable Width & Depth
You can adjust the cutting depth and width by changing the blades' quantity. It comes with 5 pcs saw blades. Blade Diameter: 133 mm/125 mm. Max depth: 42 mm/35 mm. Max width: 40 mm/33 mm.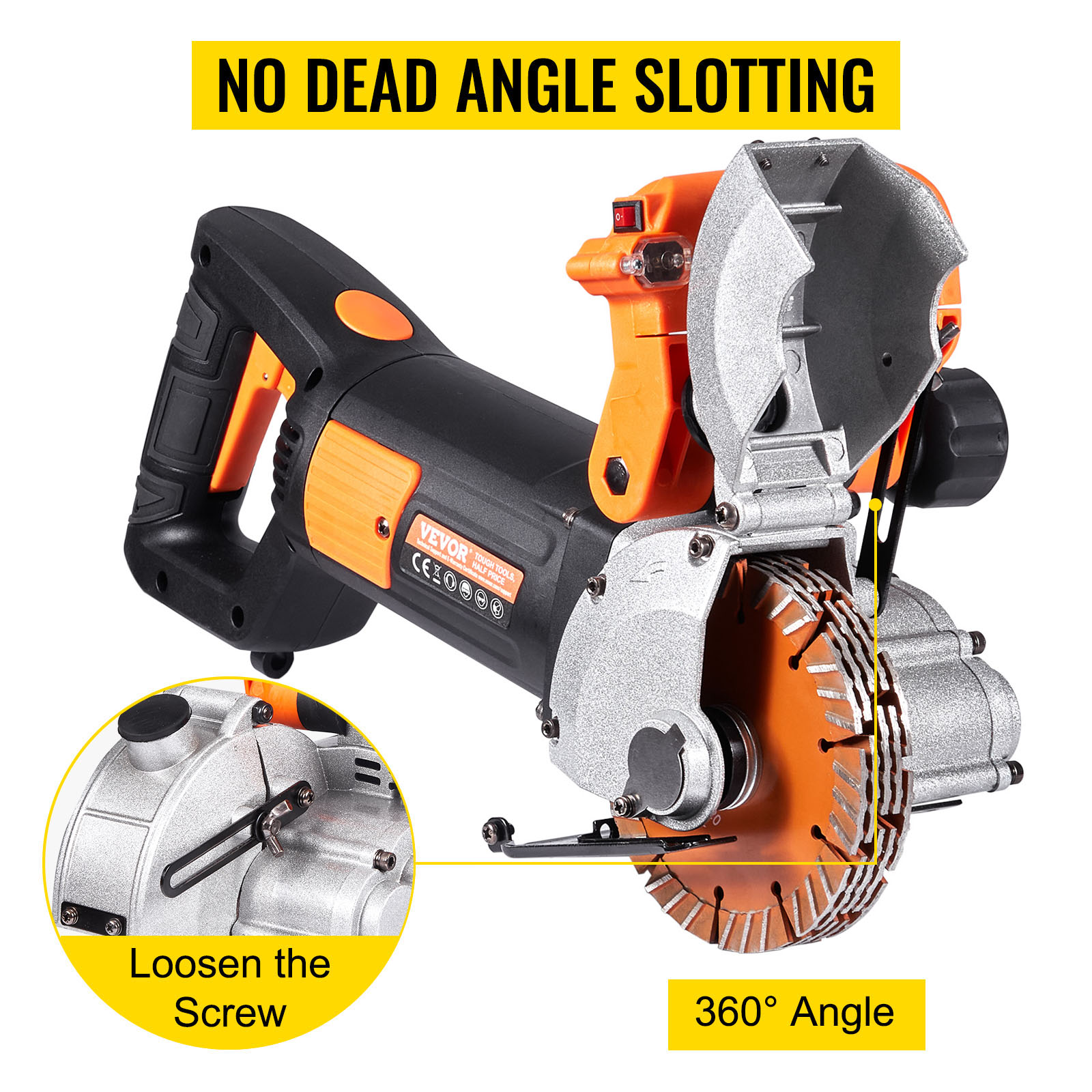 No Dead Angle Slotting
The alloy protective cover stops the dust from spreading. When you need to slot the dead corner, you can easily open the cover, achieving 360° slottings and improving working efficiency.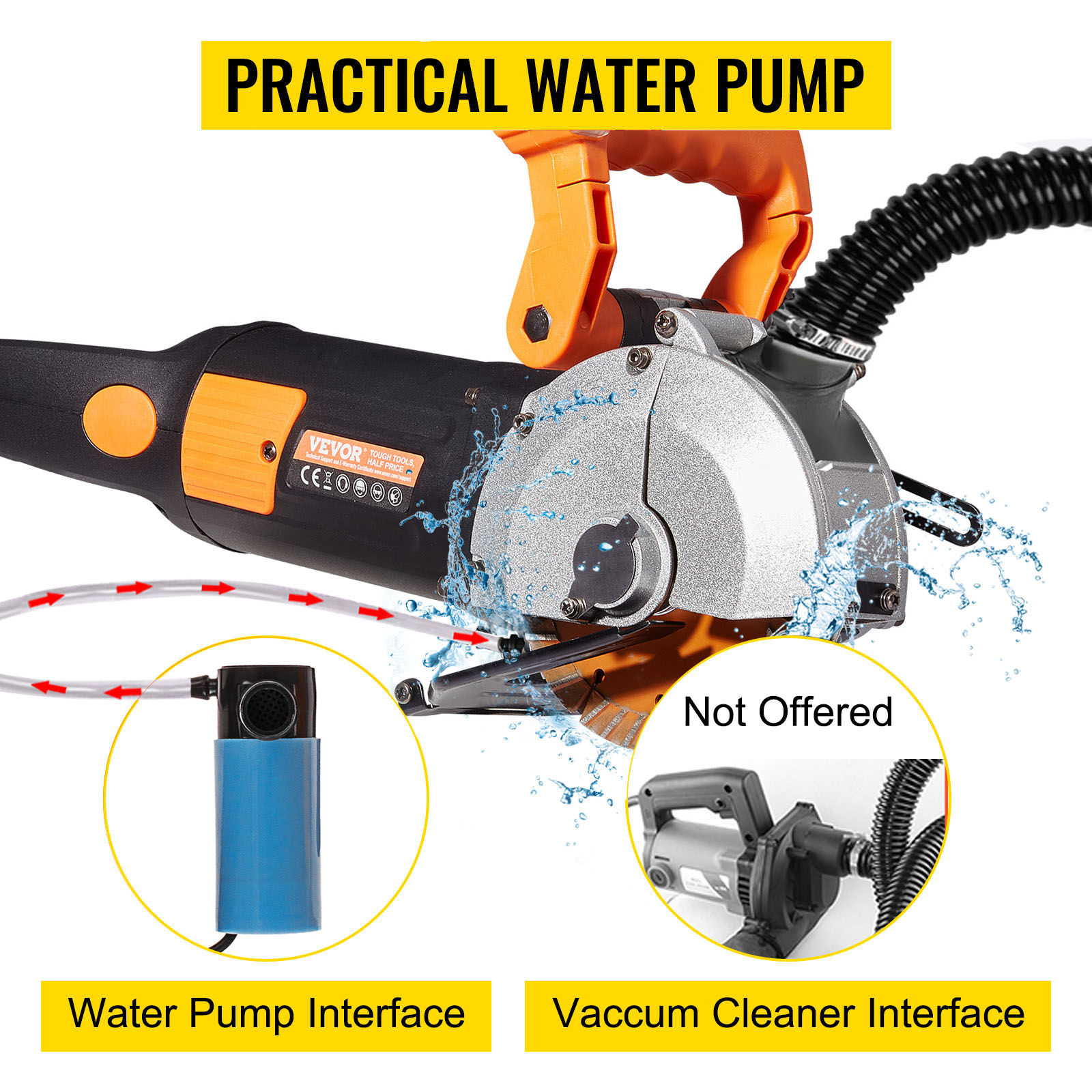 Practical Water Pump
We added a water pump to the grooving machine to reduce the dust, building a great working environment. Besides, a vacuum cleaner also can be connected(prepared by yourself).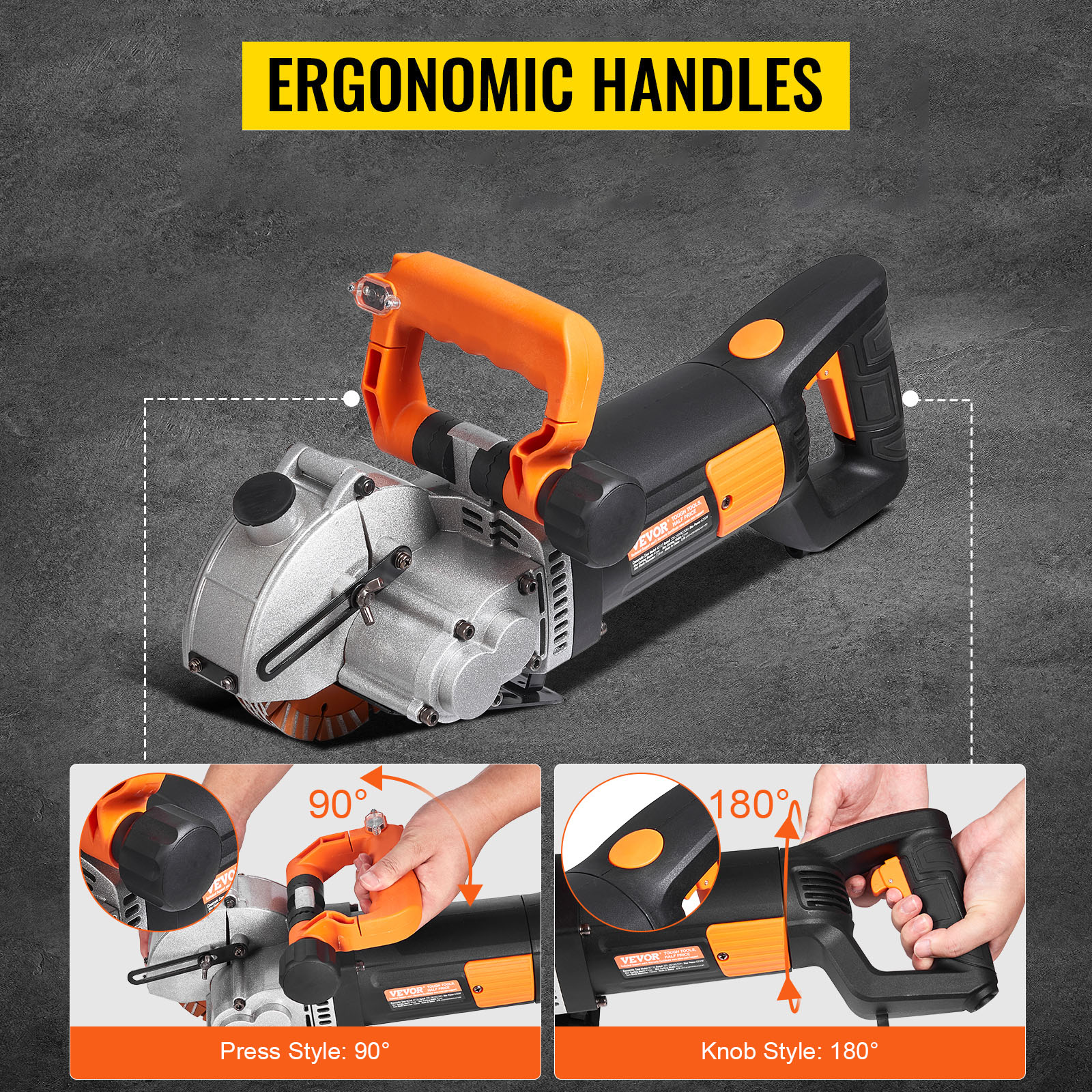 Ergonomic Handles
The wire saw machine features two handles. The front handle can be rotated 160° left and right, and the other can be turned 90° for no-fatigue operation and convenient carry.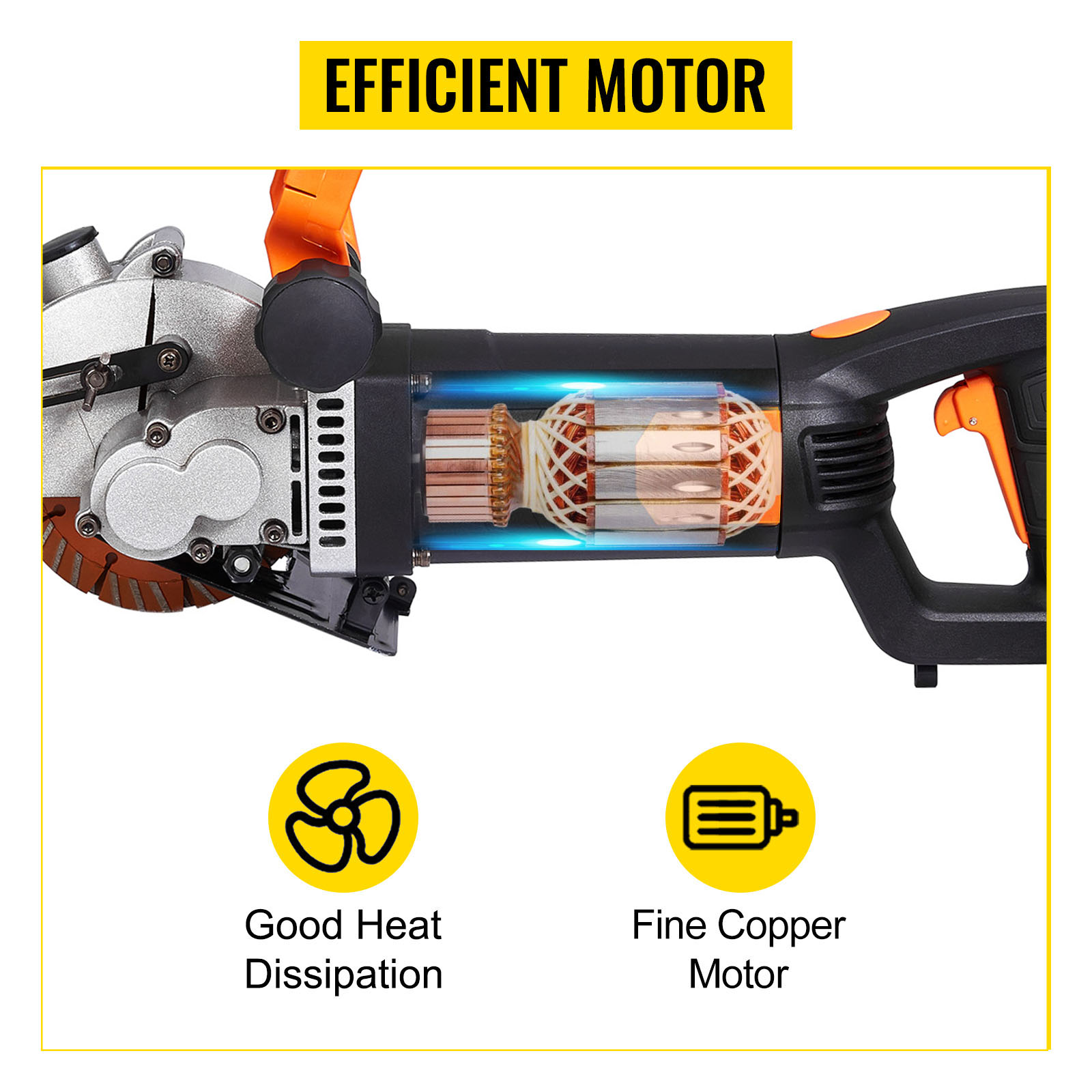 Efficient Motor 4800W/4000W
It is equipped with a copper wire motor, supporting a highly-efficient slotting. Load Power: 4800 W/4000 W. Speed: 5000 r/min; 7500 r/min. You can efficiently operate this tool with an ergonomic on/off button.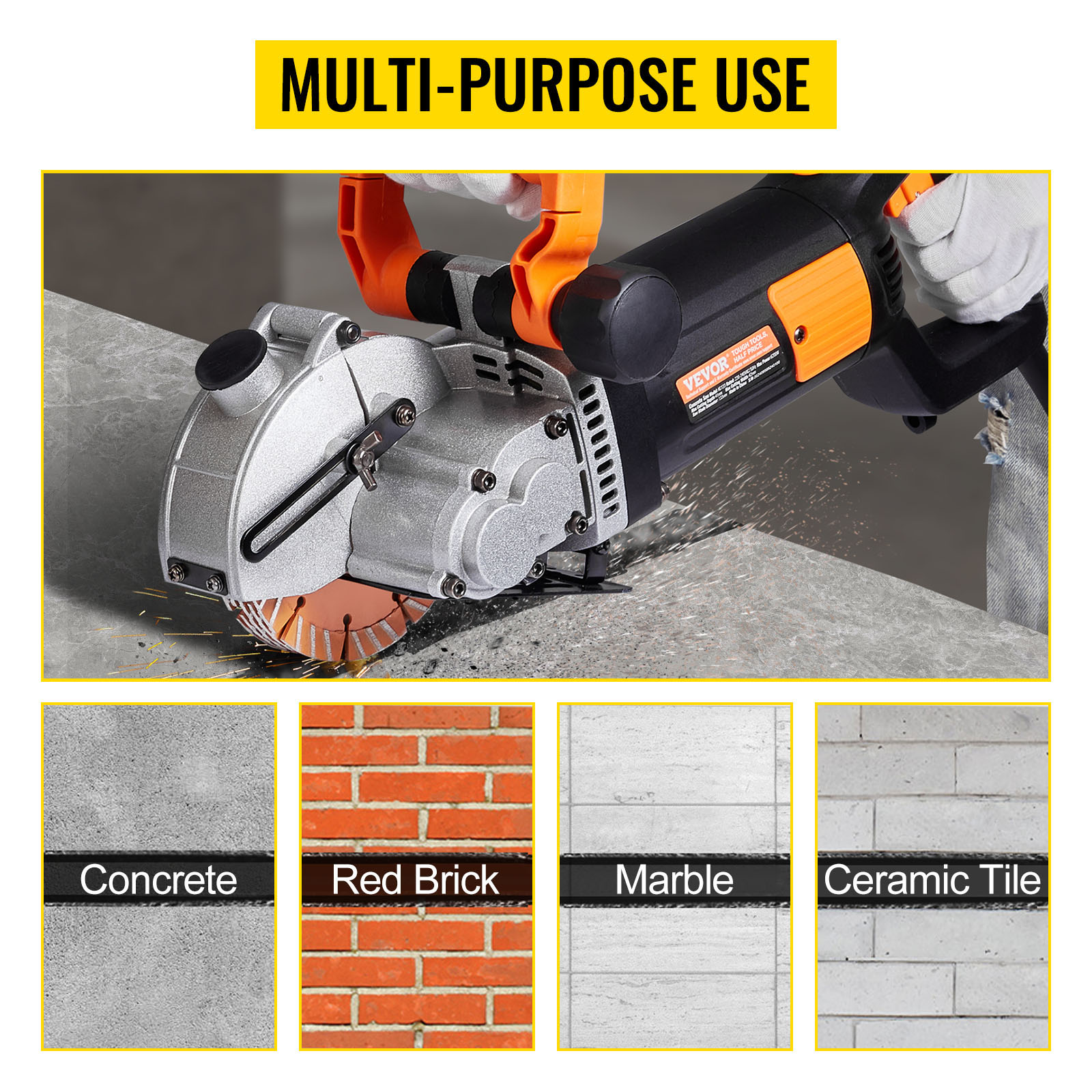 Multi-purpose Use
The wall chaser is applied to cutting concrete, marble, granite, lightweight bricks, and other materials for wall wire line slotting, widely used in construction sites, decorations companies, etc.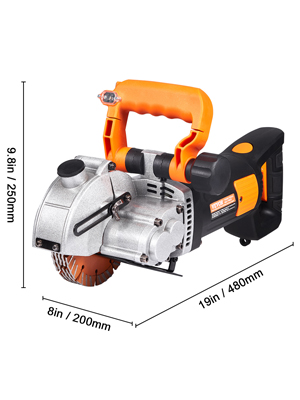 133mm Wall Groove Cutting Machine
Maximum slot width: 40 mm / 1.6 inch

Cutting depth: 42 mm / 1.7 inch

Saw blade diameter: 133 mm / 5.2 inch

Saw blade Quantity: 5

Voltage: 220 V

Power: 4800 W

Idling speed: 0 – 5000 r/min

Package size: 66x22x29 cm/26x9x12 inch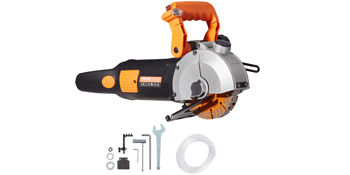 Package Content
1 x wall slotting machine

5 x saw blades

1 x box of accessories

1 x water pump, 3 m water pipe, helper, hexagonal helper, socket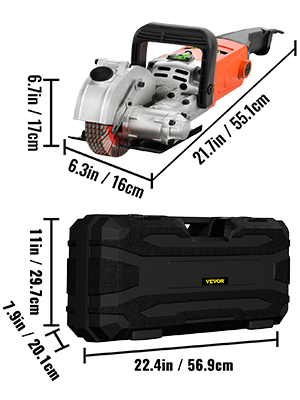 125mm Wall Groove Cutting Machine
Maximum slot width: 33 mm/1.3 inch

Cutting depth: 0-35 mm/1.4 inch

Cable Material: Fiberglass + ABS

Saw blade diameter: 125 mm/4.9 inch

Saw blade Quantity: 5

Voltage: 220V

Power: 4000W

Idling speed: 7500 RPM
Note: The shipment has Red and Green color, will ship ramdonly.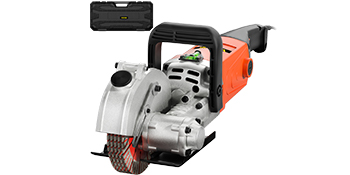 Package Content
1 x wall slotting machine

1 x water pump, 3 m water pipe, vacuum cleaner adapter, helper, hexagonal helper

5 x saw blade

1 x box of accessories
Features & Details
One-Time Molding: This 5/5.2 inch electric concrete slotting machine features a one-time molding for quick and clean cutting of wall chases. No need for any other auxiliary tools and second process, you can form concrete pouring walls without dead corners. Features 4000/4800W motor, the high-efficiency machine generates a rotation speed of 7500/5000 RPM.

Adjustable Grooving: It is easy to install 1 to 5pcs saw blades. And the groove width and depth are adjustable to meet the need of different wall chases. Maximum depth: 1.4 inch/35 mm, 1.7 inch/42 mm. Maximum width: 1.3 inch/33 mm, 1.6 inch/40 mm.

Dust-free Environment: Our concrete cutter machine comes with a water pump and a long water pipe, used to reduce the dust. The protective cover can block dust and it can be moveable to achieve no dead angle slotting. Besides, this grinder wall chaser also supports a vacuum cleaner (not included).

Double Handles: This wall chaser cutter is highly efficient with two ergonomic handles that are both angle adjustable. The cutter is more stable and labor-saving with front & rear handles while working.

Wide Application: This electric concrete saw machine is widely used in decoration companies, professional hydropower installation projects, and construction sites, suitable for ceramic cable ties, concrete, red brick, hollow brick, marble, and so on.